Getting Started Advice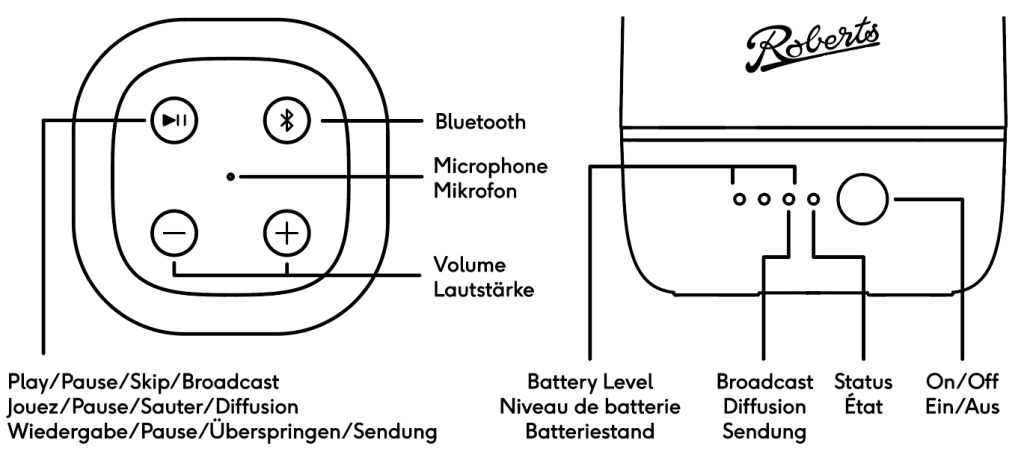 Ensure your Reunion speaker is well charged before use.
When charging, the LEDs on the front of the unit will show the charge level.
Press On/Off to power the device on or off.
Bluetooth Button
Connect/Disconnect: Short press the Bluetooth button to connect to the last paired device or disconnect from the current device.
Clear Pairing information: Press and hold the Bluetooth button to clear the pairing information. Please note that you will need to remove the speaker from your phone's device list and re-search for it again to continue using it in this case.
Broadcast Mode
The best sound experience is achieved with 2 or more Reunion units playing together. Use 2 devices to experience a stereo pair… Use 3 or more for a party!
Set the Master
On the device that is connected to your phone or AUX playback device, press and hold the Play/Pause button so that the Broadcast LED shows White. this means the device is transmitting audio.
Add Slave(s)
On speakers not connected to Bluetooth, press and hold the Play/Pause button so that the Broadcast LED is on. When connected, the Status LED will show white and you will hear the same music playing through all connected devices.
Note: The volume and playback buttons on the slave devices are disabled. All playback control and volume is done from the Master speaker or your phone.
You can quickly exit the broadcast group by pressing the Bluetooth button on slave units.
Thermal Protection
The Roberts Reunion features a thermal protection feature that will prevent operation if the internal temperature goes higher than 45 degrees Celsius (this is a CE/UKCA requirement). If the unit feels hot and is not functioning, return the device to a cool area and allow to cool off before switching on and continuing use.
Specifications
Dimensions
7.9×7.9x18cm
Weight
456g
Water proofing
IPX7
Audio system
Front & rear facing Neodymium loudspeakers
Front & rear facing passive radiators
2x26W Class D amplification
Bluetooth
V5.2
Connections
USB-C (charge and service)
3.5mm stereo AUX input
Buttons
Power, Bluetooth, Volume +, -, Play
Broadcast
Low latency broadcast feature (allows group/party play)
Box contents
Reunion speaker, quick start guide, safety & warranty guide, USB-C charge cable
Box weight/dimensions
10.1x13x22.4cm, 493g