FM Radio
Quick Start Guide
Product Overview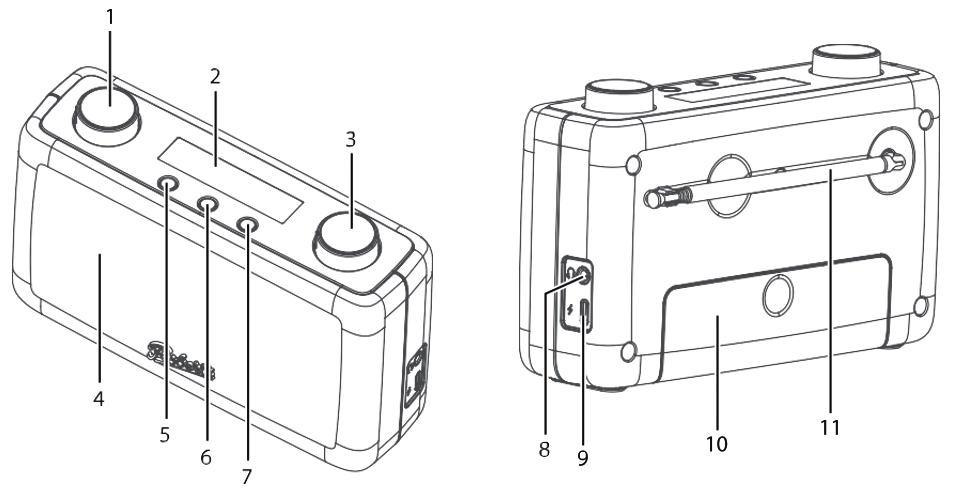 Power/Volume dial
Display
Tuning dial
Speaker
FM button
MW button
LW button
Headphone jack
Power input (USB-C)
Battery compartment
Antenna
Package Contents
Main unit
4xAA batteries
Safety and warranty guide
Quick start guide
Switching On
Open the battery compartment and install the included batteries, taking care to insert all the batteries in the direction shown.
or,
Connect a USB power supply (not included) to the unit via the USB-C power input.
Carefully extend the antenna fully to ensure good radio reception
Turn the volume/power dial to turn the unit on.
Press the FM button to select FM mode (most popular).
Turn the tuning dial to your desired radio station frequency
IMPORTANT: Ensure that the USB power source is the correct specification, 5V 1 or 2A output. Using a non standard USB power source may damage the device.
MW & LW listening
It is strongly recommended to use battery power source or a linear power supply (non digital switch mode) when listening to MW and LW radio stations. This is because the operation of modern switching power supplies will interfere with AM (MW and LW stations).
Recycling Information

What do I do with my old and unwanted unit? Our friends at Recycle Your Electricals have an electrical Recycling Locator where you can find your nearest drop-off points for electricals and batteries. see https://www.recycleyourelectricals.org.uk/
Recycle Your Electricals is a UK-wide recycling campaign motivating and making it easier for everyone to reuse and recycle unwanted electricals, ensuring we make the most of the valuable materials in them.
Safety & General Precautions
Read all the instructions carefully before using the unit.
The unit must be placed on a flat stable surface and should not be subjected to vibrations.
Do not place the unit on sloped or unstable surfaces as the unit may fall off or tip over.
Avoid extreme degrees of temperature, either hot or cold. Place the unit well away from heat sources such as radiators or gas/electric fires. Avoid exposure to direct sunlight and other sources of heat.
Never place any type of candle or naked flame on the top of or near the unit.
To reduce the risk of fire, electric shock or product damage, do not expose this unit to rain, moisture, dripping or splashing. No objects filled with liquids, such as vases, should be placed on the unit.
If you spill any liquid into the unit, it can cause serious damage.
Do not install or place this unit in a bookcase, built-in cabinet or in another confined space. Ensure that a minimum of 10cm should be kept around the unit for ventilation.
Do not place the unit on or near appliances which may cause electromagnetic interference. If you do, it may adversely affect the operating performance of the unit, and cause a distorted sound.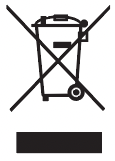 RECYCLING This product bears the selective sorting symbol for Waste electrical and electronic equipment (WEEE). This means that this product must be handled pursuant to European directive 2012/19/EU in order to be recycled or dismantled to minimize its impact on the environment. User has the choice to give his product to a competent recycling organization or to the retailer when he buys a new electrical or electronic equipment.
Technical Specifications
USB power input: 5V 1A
Battery DC 1.5V UM3/AA size x 4pcs
Power consumption: up to 5W
Radio:

FM 87.5-108MHz
MW: TBC
LW: TBC

Working temperature: 0 ~ 40 °C
Dimensions: 175x60x110mm
Weight: 0.36Kg